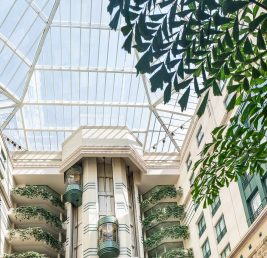 Vacature details
Job ID 2161

Ervaring

< 1 Jaar1-2 jaar
Stage omschrijving
ICT stage in Brussel, Belgie
WELCOME TO THE RADISSON BLU ROYAL HOTEL, BRUSSELS
THE BEST PLACE TO SAY: YES! TO A BRILLIANT NEW CAREER!
Are you enthusiastic about ICT and the hospitality industry? If you say Yes I Can! SM here at the Radisson Blu Royal Hotel, Brussels, we're looking for passionate people just like you!
Your tasks will involve:
 Ensure the proper functioning and the stability of the 25 physical servers and troubleshoot networks
 Provide 1 st and 2 nd line support to your colleagues and third parties
 Assist in lopende en toekomstige projecten: virtualisatie voor 4 hotels
 Written reports involving security incidents and administrative tasks
Ensure that routines and procedures are in place
Review and adapt business continuity plans for all hotels
 Perform reviews on user accounts and systems through Active Directory
Radisson Blu Royal Hotel, Brussels
 The unique Radisson Blu Royal Hotel, Brussels welcomes guests with its impressive Art Deco façade and delivers true hospitality. From this hotel's convenient location in the heart of the city and only 14km from the airport, guests can explore the vibrant Belgian capital. 281 stylish guest rooms and suites in four innovative styles are complemented by delicious on-site dining options and modern fitness facilities to ensure a relaxing stay. The hotel hosts up to 420 guests for impressive meetings and events in the city center of Brussels. For business, for leisure, for pleasure – or a combination of all three – to enjoy an unforgettable stay at this great Brussels landmark. Discover Blu. A place for you.
Minimaal 5 maanden
Vergoedingen:
Stagevergoeding: alleen voor niet-Belgische studenten
Profiel:
Knowledge of Active Directory, Group Policy, Networking, Backup Exec, Windows Server > 2012
Problem solving skills
Organized and multi-tasking
Planned oriented and efficient
Fluent in English
Have a team spirit and at the same time be independent
Have a genuine "Yes I Can!" Attitude
Be enrolled in a school / university and provide an internship agreement
We will respond within 24 hours! Please check your inbox and spam box.
To successfully receive further communications regarding your submission, please add kantoor@sterrenstages.nl to your address/contacts
Vereiste vaardigheden
Andere stage vacatures die je mogelijk interessant vindt