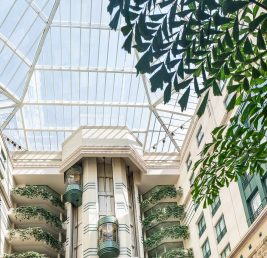 Vacature details
Job ID 2157

Ervaring

< 1 Jaar1-2 jaar
Stage omschrijving
Front Office stage in Brussel, Belgie
THE BEST PLACE TO SAY: YES! TO A BRILLIANT NEW CAREER!  
Nothing is a problem, everything is an opportunity in our quest for 100% happy guest satisfaction. If you say Yes I Can!SM  here at the Radisson Blu Royal Hotel, Brussels, we're looking for problem solvers just like you!
At Radisson Blu Royal Hotel, Brussels, we stand out together as one team and make memorable moments for our guests.
Are you a natural communicator with active listening skills, attuned to guests needs? You are the welcome, where a smile and positivity goes a long way to making every moment matter.
If you can inspire and develop your team to be the best that they can be, you will create a loyal following.  Can you handle the pace and keep your team checked in at the same time?
Your tasks will involve:

Learn the procedures of checking in and out of groups and individual guests
Procedures of reservations, credit policies, VIP cashier and security
Handle guest requests and complaints in a friendly, efficient and professional way
Participate in administrative routines
Guest Relations
After the introductory training program, the trainee should work as any other new Front Office Clerk
Minimaal 4 maanden
Vergoedingen:
Maaltijd tijdens shift
Stagevergoeding: alleen voor niet-Belgische studenten
Profiel:
Customer oriented and friendly
Team player
Flexible
Ability to work in stressful situations
Good organization and office handling skills
Good communication and social skills
Fluent in English and preferably another European language
Be enrolled in a school/university and provide an internship agreement
European students only ( http://europa.eu/youreurope/citizens/work/work-abroad/work-permits/index_en.htm )
In order to successfully receive further communications regarding your submission, please adjust any email/spam filters to allow delivery from the sterrenstages.nl domain!
Vereiste vaardigheden
Andere stage vacatures die je mogelijk interessant vindt